Description
Pure Beeswax Candle – Water Holy Magical Candles
This is a pack of 30 pieces 100% beeswax candle also known as water holy candle specific for consecration and prayers.
Beeswax candles are highly valued for their use in prayer and consecration rituals due to the belief that they can absorb and transmit spiritual energies. Pure beeswax candles have a natural honey scent that can replace synthetic fragrances. A large part of the delicate fragrances emitted by beeswax candles can be attributed to the nectar and honey that were originally stored in the honeycomb.
Beeswax candles, in contrast to paraffin candles produce negative ions when burning and have a completely clean, non-toxic burn. Sunlight, radiation, and the movement of air and water are all contributors to the formation of these charged molecules.
Sometimes, people will use these beeswax candles in prayer as a way to send their wishes and visual thoughts to the deities listening to their prayers.
Specs: Each candle is 20cm in length. Sold in pack of 30 pcs. (ships worldwide)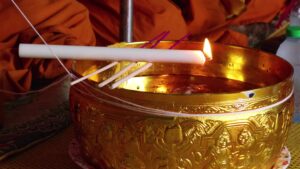 beeswax candle ritual